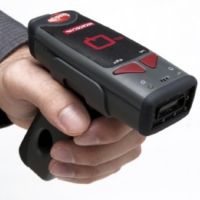 MicroScan MS-Q Quadrus
Used and New Old Stock Available!
New Old Stock (Boxed - UNUSED) - USD$500.00 per box
Used (unboxed) - USD$300.00 per set.
(Price includes shipment via Singpost/EMS 3-5 business days delivery w/ tracking)
*All prices quoted are for export - exclude VAT/GST/taxes and Customs Duties.
Please allow additional 3-5 business days' leadtime for preparation for shipment.
Payment - Paypal or International Bank Transfer ( SWIFT / TT )
We will ship only after clearance of payment. Tracking number and link will be provided.
Email: \n This e-mail address is being protected from spambots. You need JavaScript enabled to view it
Picture above shows unused box (new old stock).
[Product Description] 
The MS-Q Quadrus handheld imager decodes symbols on low contrast substrates such as metal, plastic, rubber, and glass. It is optimized to read both linear and 2D symbols that use direct part mark (DPM) methods such as dot peen and laser/chemical etch.

With custom optics and advanced decode algorithms, the MS-Q Quadrus provides the decoding power of a smart camera into a powerful handheld device.
• Optimized resolution
• User-friendly design
• Aggressive decoding
• Security option
• System integration
• IUID codes
** This is an OEM of Code Corporation CR2 code reader 2 with bluetooth. 
 ** All equipment sold are used/refurbished in good tested working condition unless otherwise stated.